This innovative storage solution has a built in turntable that allows easy access to anything you put in it. Instead of reaching further into your fridge, just turn the caddy and bring the item to you. It's great for people who have bad backs and have a hard time reaching into a deep fridge or cabinet.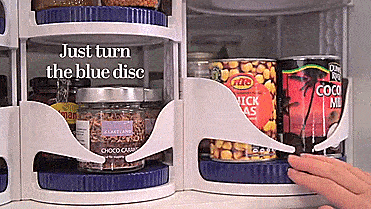 The Roto Caddy is a container that holds two mini lazy susans that you can easily turn around with the tip of your finger. And since they're connected, the items that you scroll through will make their way all the way around the edge of the Roto Caddy. Just keep sliding your finger on the caddy, and each item will eventually make its way to the front for you to easily access.
The Roto Caddy is perfect for storing condiments in your fridge, spices in your spice cabinet, vitamins, canned foods, sauces, and pretty much everything in-between. Not to mention all of the things you could use it for in your garage! It comes in three different sizes to accommodate all sorts of different sized items in your kitchen, bathroom, garage, and more.
The Roto Caddy is also a great space saver that will help you to take advantage of the space in your small cabinets and fridge space, as they're completely stackable. Your cabinets can be organized and everything will be within reach. You have to love the versatile and compact design. You can use it anywhere since the four extension connectors adapt the caddy to any space.